Carmen Granda Amherst College
Carmen Granda is a Lecturer at Amherst College in Massachusetts specializing in Spanish Language and Culture. She received her Ph.D. in Hispanic Studies from Brown University. For the past five years at Amherst, she has taught Beginner Spanish I and II, Intermediate Spanish I, an interdisciplinary bridge course on the Camino de Santiago, an advanced writing course, Spanish Writing Workshop, and Literature and Culture of the Hispanic World.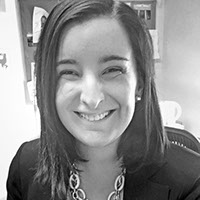 About the Talk: Google Tour Builder and Goose Chase
Google Tour Builder and Goose Chase are engaging and interesting tools for the exploration of geographic storytelling, learning about culture and travel, and practicing teamwork. In this talk, Carmen Granda introduces us to her Spanish Language and Culture work with her Amherst College students, the role of these digital tools in their classroom assignments, and the fun they had while creating virtual trips and scavenger hunts.
Adam DelMarcelle York College of Pennsylvania
Adam DelMarcelle serves as an adjunct professor at, York College of Pennsylvania, Lebanon Valley College, Kutztown University and Pennsylvania College of Art and Design. His current practice focuses on design activism and the role of the graphic witness in our society. A selection of his prints are in the permanent collection of the Library of Congress in Washington DC and The Cushing Whitney Medical Library at Yale University.
November 15th 2019
Talk: 11AM to 1PM
Marlin Fitzwater
Center Studio
About the Talk: Hacking the Street
What can happen when we create work for the betterment of our community? By employing digital tools, we possess the ability to hack the world of public advertising, level the playing field, and reveal important, and often hidden, information to the public.
This talk examines contemporary and historical practitioners of design activism, the first amendment as a powerful communication tool, guerrilla projection, and our ability to influence social and political awareness through the implementation of simple digital tools.
Samantha Stanley University of Hong Kong
Professor Stanley's goal is to contribute to a body of knowledge that helps people make sense of our rapidly digitizing news environment. She believes that all media, as one of the primary sources of information about the world outside of our own experience of it, should be better understood by consumers—particularly journalism. That's a tall order these days given the lack of media and information literacy education in school systems and the impossibly fast pace of change in today's digital media landscape.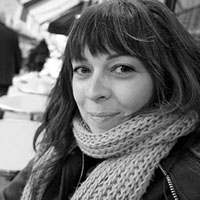 August 22nd 2019
Talk: 10AM to 10:45AM
Workshop: 10:45AM to 11:30AM
Spagnuolo Hall
About the Talk: Breaking the Disciplinary Silos: Fostering Collaboration in New Literacy Education
Faculty attending this session will learn how a university librarian and a university educator collaborated on lesson plans that bridge disciplinary silos to teach students to evaluate the source of information online. From identifying common concepts, to collaborating on lesson plans, to comparing assessments, this partnership resulted in a more enriching and engaging experience for both the students and the educators.


About the Workshop: News Sources Say What?! Teaching Source Evaluation in a Digital World
During this 45-minute teaching activity, faculty will use a variety digital tools to report back on their critical thinking about the sources journalists use in news stories. We will demo a three-part lesson plan that teaches learners how to identify and assess quality markers of news sources, consider social constructs in their evaluation of these quality markers, and use digital short-cuts that professional fact-checkers use to quickly find helpful online information about information sources.
Renee Hobbs Founder of Media Education Lab
Renee Hobbs is an internationally-recognized authority on digital and media literacy education. Through community and global service and as a researcher, teacher, advocate and media professional, Hobbs has worked to advance the quality of digital and media literacy education in the United States and around the world. She is Founder and Director of the Media Education Lab, whose mission is to improve the quality of media literacy education through research and community service.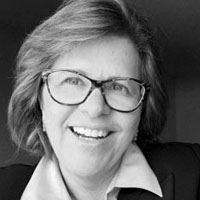 May 22nd 2019
Talk: 10AM to 11AM
Marlin Fitzwater Center Studio
Workshop: 12PM to 1PM
IDEAL Center
About the Talk: All About Infographics
Join us for a morning talk and afternoon workshop on infographics using Piktochart, Infogram, and Easelly.
Heather Snyder-Quinn Educator, Designer, Writer
Heather Snyder-Quinn teaches at DePaul University, has worked as an experience designer for over 22 years, and is the co-chair of AIGA Chicago's Women Lead Initiative and Speculative Futures Chicago. Her work focuses on design's potential to transform our personal narratives and experiences. Her work has been presented and exhibited both nationally and internationally. Heather recently received a STA100 award for her publication "Lost in Translation" which utilizes GoogleTranslate's augmented reality feature.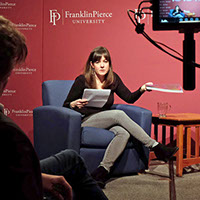 April 5th 2019
10AM to 11AM
Marlin Fitzwater
Center Studio
About the Talk: Design Fiction as a Method for Engaging with Radical Technologies
Design Fiction is a method often used to speculate futures and/or to build disruptive visions of society. According to The Near Future Laboratory: "Design Fiction doesn't so much 'predict' the future. It is a way to consider the future differently; a way to tell stories about alternatives and unexpected trajectories." In many ways, design fiction could be loosely related to many of our natural skills as designers—creating concepts, prototypes and play—trying out scenarios before the stakes are too high. In this talk, the author will showcase her project Transparency: Past, Present, Future—a body of work consisting of a publication that utilizes augmented reality, an experimental film using Google Earth and Alexa, and an exhibit of future speculated objects that exist in augmented reality.
Lance Eaton Instructional Designer
Lance Eaton is a writer, educator, instructional designer and social media consultant in Watertown, Massachusetts. He has taught at several colleges, writing for a few magazines, and finishing up a second Master's Degree. As of 2017, Lance currently works as the Instructional Designer at Brandeis University in the Rabb School for Continuing Studies.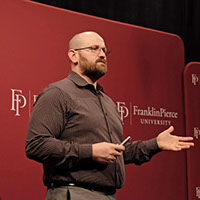 January 30th 2019
10AM to 11AM
Marlin Fitzwater
Center Studio
About the Talk: What is Open Pedagogy?
Joni Siani Assistant Professor of Media & Communications
Joni Siani began her relationship with the media as an international radio and television personality. The exponential shift in technology and the relational effects of our personal development, our interpersonal communication and our global society has been the focus of her current research. Siani is the author of Celling Your Soul: No App For Life and the award-winning documentary Celling Your Soul.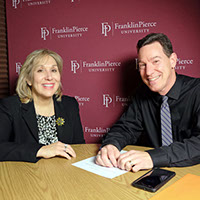 October 29th 2018
11AM to 12PM
Marlin Fitzwater
Center Studio
About the Talk: Celling Your Soul
A honest conversation about our love/hate relationship with our devices from the first "digitally socialized" generation and...what we can do about it. Siani worked with and inspired a group of dedicated students to collaborate on developing strategies and solutions to address the impact our new communication trends were having on the social development of teens and young adults. The group effort resulted in the award-winning documentary Celling Your Soul, one of the first films to honestly address the shaping effects of our smart phone technologies through the lens of the first digitally socialized generation. The documentary was recently featured at the American Psychological Association's conference.
Todd Taylor Professor of English & Comparative Literature
Todd Taylor is the Eliason Distinguished Professor of English and Comparative Literature at the University of North Carolina at Chapel Hill, where he also directs the first-year writing program. Since the early 1990s, his research and teaching have examined how literacy is evolving in response to rapidly changing digital, information, and networked technologies.
2018-19 IDEAL Keynote Speaker
September 20th 2018
12PM to 1PM
Spagnuolo Hall
About the Talk: An Invitation to Innovation: Digital Literacy across the Franklin Pierce Curriculum
This presentation explores the possibilities for digital literacy in potentially every class, every major, and every discipline across the curriculum. Professor Todd Taylor will describe how the interdisciplinary writing program that he directs at UNC-Chapel Hill serves as a threshold digital literacy experience for first-year students as they enter the university. The presentation shares examples of critical, analytic student work in the sciences, social sciences, and humanities. Professor Taylor will demonstrate how the "learning curve" can be flattened with a new generation of powerful digital literacy tools, such as Adobe Creative Cloud, so that instructors and students alike can spend more time on teaching and learning in their courses and less time on software. The presentation showcases free, online support materials, including the new e-textbook: Adobe Creative Cloud across the Curriculum: A Guide for Students and Teachers as well as assignment modules and sample student work in Adobe Education Exchange.
Workshops and Discussions
In addition to bringing in expert guest speakers on the subject of Digital Skills and Literacy, the IDEAL Initiative will be hosting a number of on campus workshops and discussions led by our own homegrown team of experts.
First Year Workshops
Tools, Tools, and More Tools (an exploration of free, categorized digital tools)
Defining Digital Literacy (discussion)
Introduction to Microsoft Sway
Introduction to Podcasting
Societal Dependence on Mobile Devices (discussion)
Exploring Video-Capture Tools (ScreenCast-o-Matic and more)
Introduction to the Adobe Creative Cloud Workflow
Introduction to Photoshop
Exploring Website Creation (Weebly and more)
Introduction to FlipGrid
Introduction to Microsoft Office 365
Second Year Workshops
Here is a list of topics we hope to cover in the second year...
Tools, Tools, and More Tools (an exploration of free, categorized digital tools)
Purple Briefcase and Career Services
Introduction to Microsoft Sway
Visual Design with Adobe Spark