***********************************
The 2019-2023 RFF Collective Bargaining Agreement is now available.
***********************************
Living trusts. Revocable trusts. Irrevocable trusts. Life insurance trusts. Phew…that's a lot of trusts! You can learn about the different types of trusts and how they may meet your particular needs, protect your assets and ensure your wishes are met.
February 11 at 12 p.m. (ET)
In retirement—and the years leading up to it—protecting your savings becomes just as important as growing it. Join us to learn how to create your own "personal pension" with TIAA Traditional, a fixed annuity issued by Teachers Insurance and Annuity Association of America (TIAA).*
February 12 at 12 p.m. (ET)
Learn what cyber-criminals are after and steps you can take to help secure your identity and help protect your finances. We will discuss phishing, measures to prevent and detect identity theft, and how to secure your devices.
February 13 at 12 p.m. (ET)
Join the American Lung Association at the 11th Annual Cycle the Seacoast on May 3, 2020 at Cisco Brewers Portsmouth! Choose from a 25, 50 or 100 mile option along the beautiful New Hampshire Seacoast or volunteer to support the cyclists. Sign up to volunteer on the event website (volunteers are not required to fundraise but have the option). We have volunteer positions for both individuals and groups. This is a great way to showcase your business in the community!
Start a company team! Each individual participant is required to pay a registration fee and fundraise a minimum of $200 to participate. Cyclists can register here using code "SAVE" for $10 off registration ($25 with discount).

Contact Melissa at 207-624-0306 or Melissa.Walden@Lung.org if you have any questions about participating in this event as a participant or volunteer!
************************************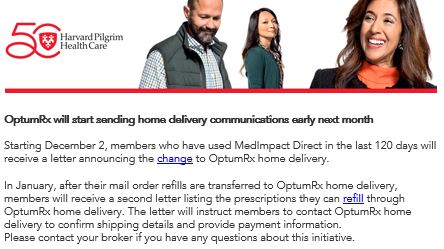 Now Available: Apple Wallet Member ID
We're proud to be the first regional health plan in New England to offer members an insurance ID card through the Apple Wallet app. With Apple Wallet, members can retrieve their ID card with a simple swipe instead of logging into their online accounts to download or email the information.
No digging around in purses or pockets for printed (and possibly outdated) cards either. What's more, Apple Wallet's card data is "dynamic," meaning it's refreshed on a daily basis. So, any updates to plan information (e.g. copays, deductible, PCPs…) are quickly reflected. The wallet card contains the same information as the member's physical ID card but lists the member's PCP as well.
The Apple Wallet ID option, made available January 6, 2020, is just another digital convenience we offer our members. This flyer gives simple instructions on how to access ID cards in whatever way is most preferable to each member, including through the Apple Wallet app.
We continue to expand our digital capabilities and explore new, more convenient ways our members can make the most of their plans. So please stay tuned for more updates in the months ahead!
Apple Wallet is Apple's (IOS-based) app that stores event tickets, credit cards, boarding passes, and other items on a user's iPhone.
More about Apple Wallet.